When you're young, you don't often think of the future. The truth is, the choices and decisions you make now, can dramatically affect your future. When it comes to skin health, it's important to take a proactive approach, ensuring that you reduce damage later on in life.
Makeup is one of the largest culprits, contributing the look and feel of aging skin. When you go to bed with your makeup on, you're exposing your skin to impurities and chemicals that often lead to irritation. Not only does this increase your chances of developing acne, but is also hinders cellular renewal and prevents your skin from 'breathing.'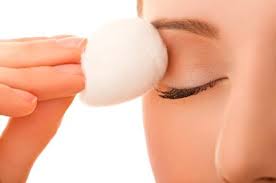 When it comes to your eyes, the surrounding skin is extremely thin and sensitive. Not only will makeup  cause red, itchy eyes in the morning, but it will also promote the development of wrinkles and dry skin. There are plenty of makeup removers on the market, but what is best for your eyes? No need to invest in expensive eye makeup removers, coconut oil does the trick.